TV CHANNEL IS CRAZY ABOUT "TRUCKER BABE" ANGIE
Six cameras accompany truck driver Angelika Scherer to Mallorca. Her work in the 40-ton truck is still considered an exotic job.
AACHEN The long manicured fingernails shine steel blue, just like the blue of the truck paint. Anyone who meets Angelika Scherer, known as "Angie", for the first time, would hardly expect her everyday work to be at the steering wheel of a 40-ton truck. This is exactly why she is one of the ideal cast of the current season "Trucker Babes – 400 HP in women's hands" of the television station Kabel 1.
On Sunday, September 29th, 8:15 p.m., you can see on the screen how the 59-year-old driver of the transport company Josef Schumacher sets off to Spain starting from the city region of Aachen: Würselen, Meschede, Mallorca – 1200 kilometers of asphalt plus a ferry trip in four days. Always in tow: a Team of the TV channel "Kabel-1" from Storyhouse Productions who accompanies Angie up close. Four cameras were installed in the driver's (inside) cab for the recordings, and there were two more cameras for external recordings.
It tells the technical workflow, everyday life on the motorway, but also a lot of personal information. Angie, who always introduces herself by first name, describes her childhood in Finsterwalde, her way from Brandenburg to the western tip of Germany, her life as a single mother in the meantime
18 year old son. There must be emotions. "At the beginning, the cameras are irritating, you behave rather stiffly at first – and then you forget about the cameras, "explains Angie. Women at the wheel of huge 40 ton trucks are still exotic in 2019; so this is the best TV stuff. Almost two million viewers tune in regularly.
Always in the focus of the television cameras: The tour of Angelika Scherer to Mallorca shows Kabel 1 next Sunday at 8:15 p.m.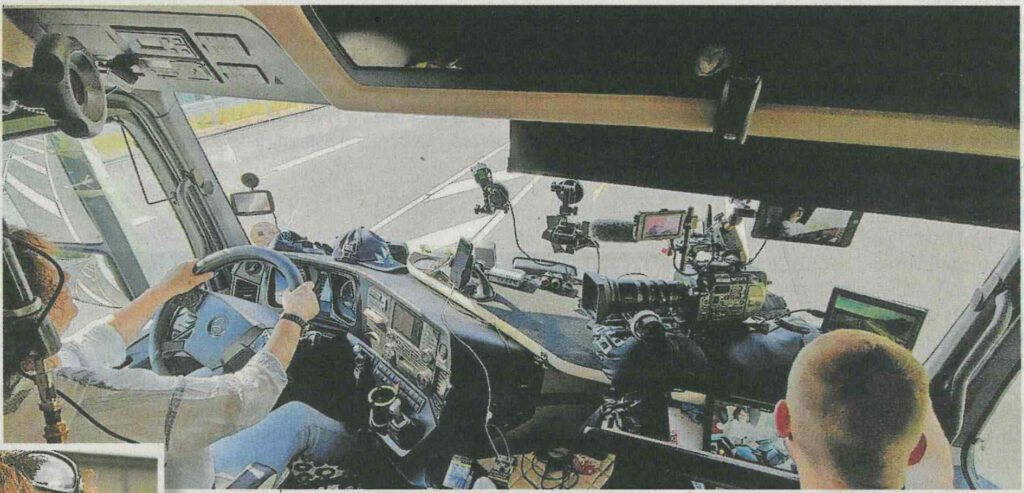 (PHOTO: STORYHOUSE PRODUCTIONS)
Usually Angie rolls through the country with mountains of chocolate in the loading area. For the TV production she took on a tour to Palma de Mallorca via Mallorca Logispeed S.L. Of course with German beer on the loading area, total weight 38 tons. "I've been driving trucks and tautliners for 27 years, it's in my blood," says Angie. "I love to be on the go. The fact that as a woman – now more rarely than in the past – workers sometimes look at you strangely when picking up a load, this doesn't bother me at all, "she adds. Alos in her forwarding company she is the only woman at the steering wheel among almost 100 drivers. In Germany, the proportion of female truckers is barely two percent, she calculates. "Of course, women drive just as well as men, maybe they are even more sensitive," says Angie. She maneuvers her almost 17-meter-long semitrailer – the equivalent of four VW Golfs – backwards with ease into every gap. "Mostly in one train, on bad days just like any other driver with slight corrections, that fits," she says. Angie is an action movie fan. Year after year, Angie rolls around 45,000 kilometers up and down the country in a truck. And stands for hours: in a traffic jam on the motorway, in the queue in front of large logistics centers for loading and unloading. "I am the calm myself," she explains.
"I don't get annoyed, not even by daring overtaking maneuvers by cars on the road." Especially since the job in the cockpit of the truck has become more comfortable in recent years. "When I first sat on the box, I had between nine and 18 gears Shift by hand – today automatic transmissions are standard in modern trucks, "compares Angie. Everything is "easy", relaxed and simple: she likes to listen to country music on the steering wheel, and recently also pop hits by singer Ben Zucker. Angie is particularly fond of his song "Der Sonne entgegen". Wanderlust is part of her job. She would love to drive a typical American truck with lots of chrome, horsepower and a long bonnet. "A dream!", She says. And of course the truck has to shine; driving itself would probably only be a finger exercise…