WITH VELTINS ON THE WAY TO MALLORCA
TV Channel Kabel 1 accompanies Angelika Scherer for the series "Trucker Babes" on her tour from the Sauerland to Spain
Grevenstein. Excitement in the Veltins logistics: The Kabel1 production of "Trucker Babes" was already on site in Grevenstein in June. Trucker Angelika Scherer from the Schumacher forwarding company in Aachen was accompanied on her beer transport to Spain. In mid-June, an unusual customer visit to logistics was announced. The Schumacher company from Aachen informed the Veltins brewery without further ado that one of their drivers would be accompanied by a TV team.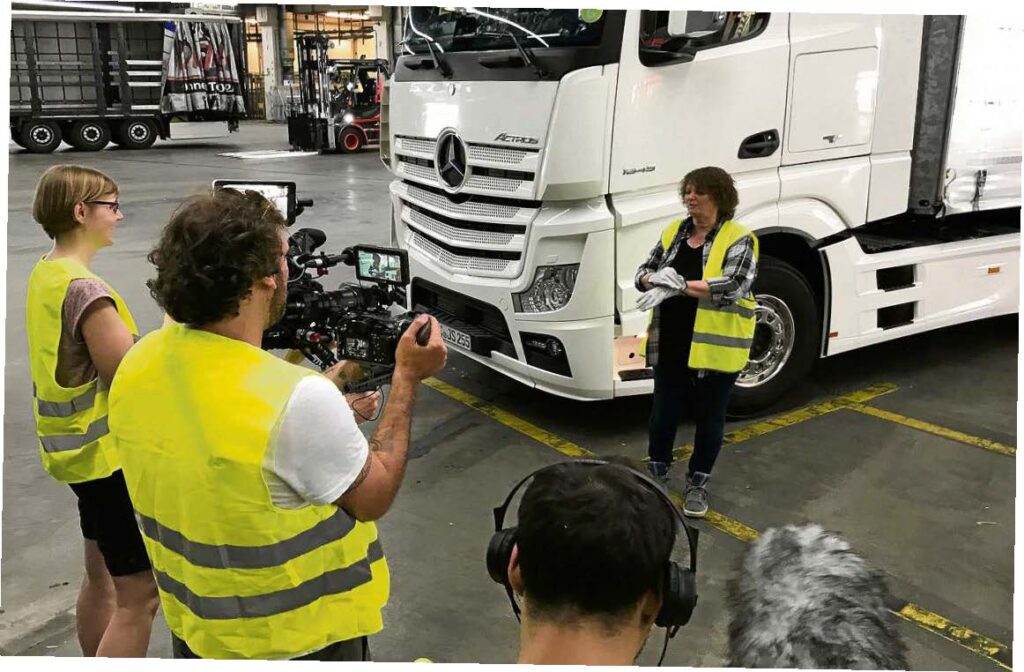 (Photo: BRAUEREI VELTINS)
The trucker Angelika Scherer from the Schumacher forwarding company is accompanied every step of the way to Mallorca when she starts work in Aachen. In Grevenstein she takes over the load of fresh Veltins.
TV Dates
The episode showing "Trucker Babe" Angelika Scherer in Veltins logistics will be broadcast on Sunday, September 29th at 8:15 pm.
A second broadcast date is on Sunday, October 20, also at 8.15 p.m.
A transport to Mallorca was selected for the "Trucker Babes" format. "In nur kurzer Zeit musste das Drumherum organisiert werden", so Hanna Stasiak von der Spedition Schumacher, "zunächst einmal musste der Auftrag der Fa. Comabe-Commercial Mallorquina de Begudes S.L. aus Palma de Mallorca vorliegen." With the preparation of this beer delivery, the shoot could start. The trucker Angelika Scherer was accompanied every step of the way to Mallorca when she started work in Aachen. From taking over your Mercedes Actros with 450 hp, to the car wash and to accelerating on the highway – the camera and production team were always there. Around noon the entourage arrived in Grevenstein and here, too, there was a close documentation of the work of trucker Angi. First up to the litter and register for collection. With the hot summer temperatures, the Veltins summer business was just gaining momentum. After a short wait, Angelika Scherer drove into the logistics hall with the cameraman in the passenger seat. The order for Spain was there, so everything was loaded as a matter of routine. "For us this is routine," says Tim Schäfer as logistics site supervisor, "in times of high logistics frequency, however, this means a high degree of organization" So that everything worked smoothly and without long waiting times, the Kabel1 production company had all the details before – license plates of the vehicle and trailer, mobile phone numbers, detailed
Schedules were precisely prepared. With full cargo space, Angelika Scherer headed back towards the motorway and south with the destination Mallorca. She is the veteran among the "trucker babes" of the new episodes – she has had her truck driver's license for 40 years and has been driving large trucks all over the world ever since
Europe. There is one thing she has never lost: her love for the trucker life.
This professional experience is hard to beat. As a single mother, she only drove local transport for many years, but those days are over now – her son is 18 and "Angi" longed for long tours. That's why it means for her: Off to Mallorca!