Schumacher - Your reliable logistics partner
Familiy company
since 1931
The forwarding company Josef Schumacher, Tiefkühl-Frischdienst-Logistic e.K. was founded in 1931 in Aachen by Josef Schumacher as a transport company. The transport business initially consisted of simple transports in the Aachen region. Soon, however, the first, more complex services were added.
Today the company is a well-positioned, medium-sized logistics service provider for frozen food and fresh products as well as confectionery logistics, which, in addition to traditional logistical areas such as national and Europe-wide transport, handling and storage, is particularly known for its expertise in the field of fresh food logistics.
In the field of confectionery logistics, the company has distinguished itself in particular through the development and operation of individual, tailor-made solutions for complex logistical requirements, such as warehouse management or co-packing. With around 280 employees, around 300 refrigerated trucks and around 120,000 m² of managed logistics space, the Schumacher freight forwarder is one of the leading providers not only in the region around Aachen.
The forwarding company has access to a fleet of over 300 refrigerated trucks, which are used nationally and internationally in Europe-wide long-distance transport.
Contract logistics / system logistics
Handling of goods (approx. 800,000 pallets per year)
Storage of (temperature-dependent) products
Co-packing
Overseas container loading
Shrinkage of trade items
Packing and pricing
Inventories
IT-supported materials management according to the FIFO principle
BBD monitoring and batch tracking
EAN code creation and management
Automatic order integration
Order management and feedback
Inventory management and comparison
Distribution of goods
Schumacher Digital
In all process steps – Schumacher security!
Track & Trace
Temperature monitoring
Door contact monitoring
Location monitoring based on GPS
Monitoring of driving and rest times
Tire pressure monitoring
Fuel control
Individual alarm settings
Around the clock, 365 days a year
With the help of our telematics solution, we can control and track our fleet, keep track of driving and rest times of the driving staff, save fuel, use digital documents and simplify communication between our disposition team and the driver. In addition, the digital data are a valuable instrument for controlling, fleet management and accounting and serve as the basis for determining the arrival date of a vehicle to the minute – one of the most important levers for optimal route planning and highly efficient order processing.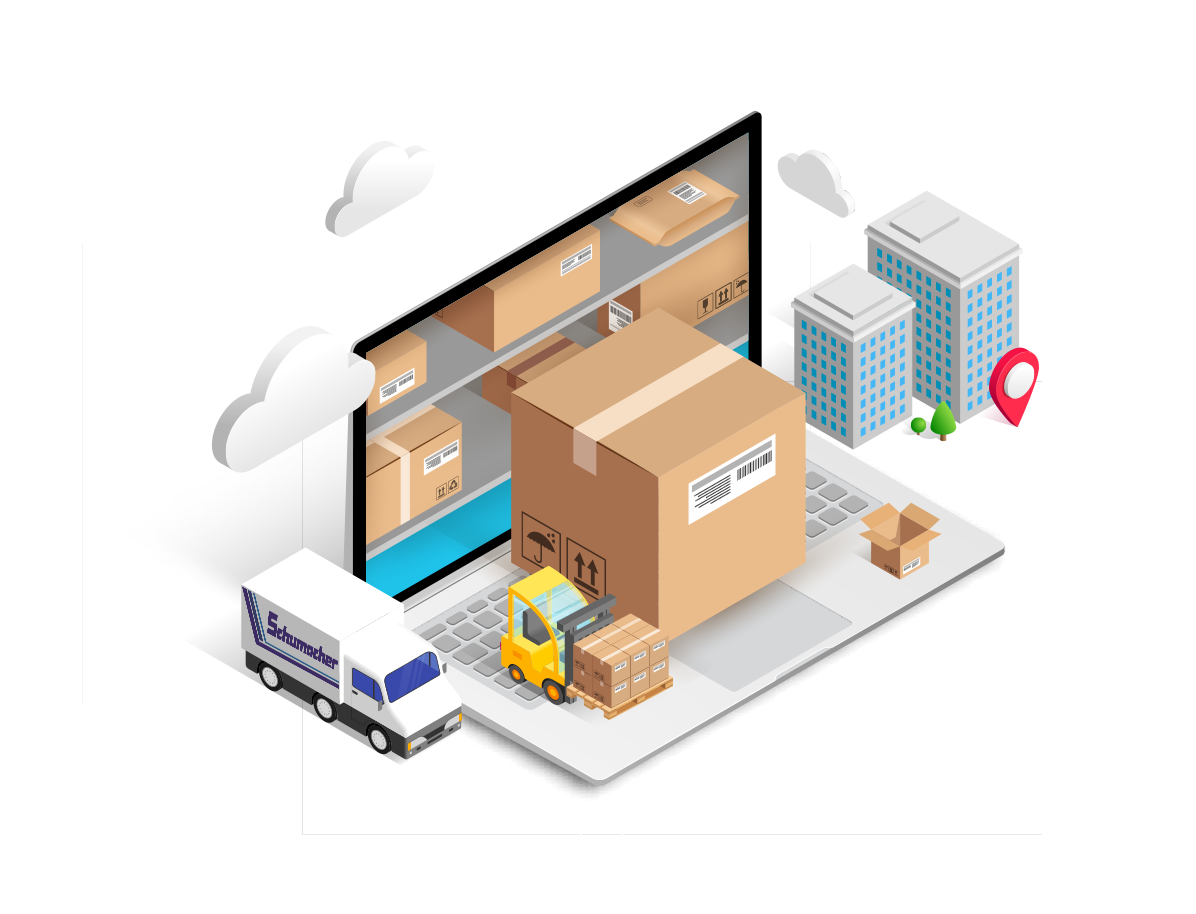 Planing & Report
By reducing the amount of information, services can be better planned and prioritized.
Create clarity
Relevant content will be integrated into the process using result-oriented KPIs.
Results
The results that the KPIs show enable measures to be taken. The quality of important decisions is increased.
Plan the future
Knowledge based on the results of the KPIs is the basis for further corporate planning. A simulation of risks and scenarios is also possible.