Europe-wide transport solutions
We rely on flexibility and reliability!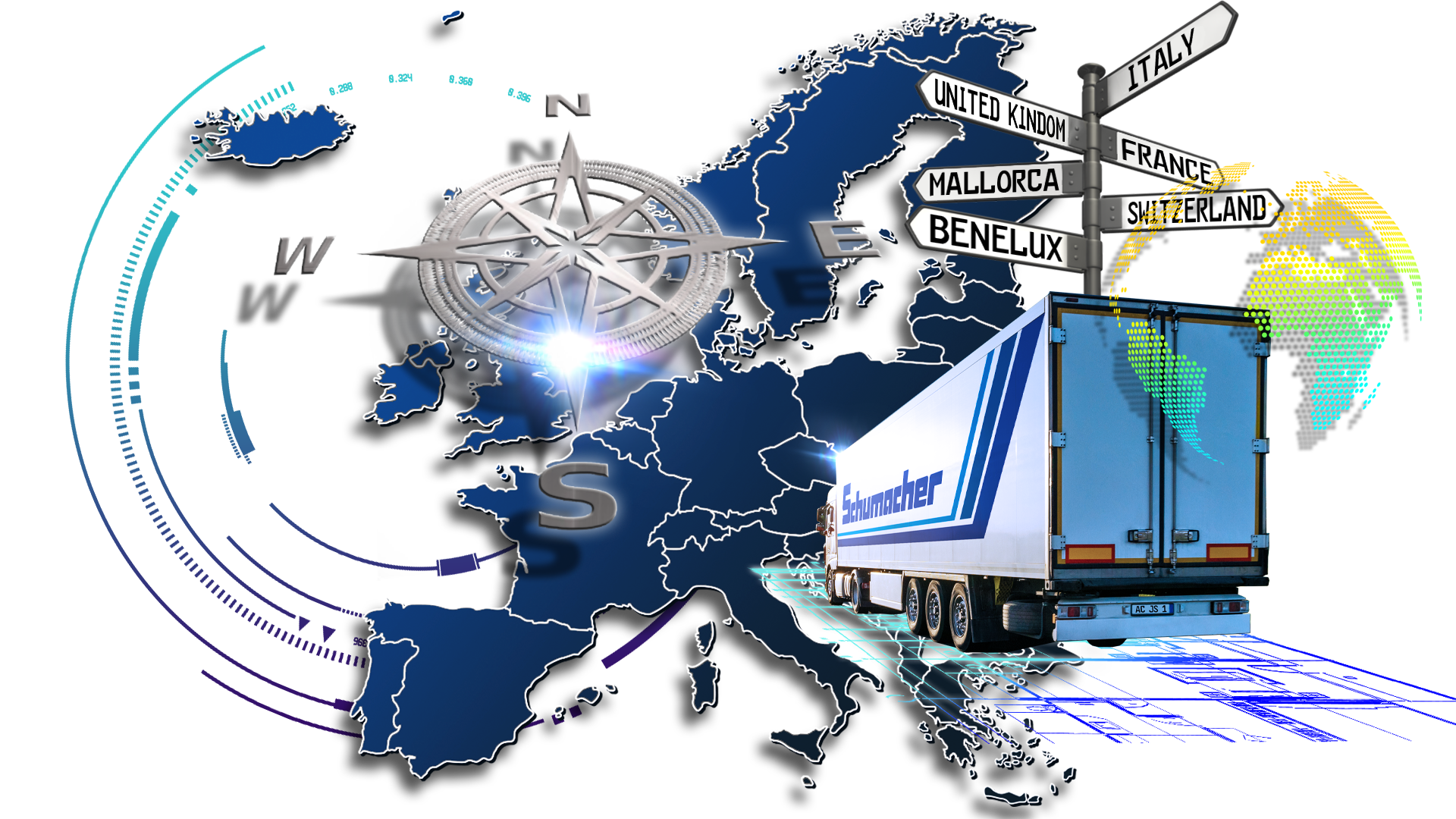 Spedition Schumacher International GmbH
With the establishment of the forwarding company Schumacher International GmbH in 1996, the Schumacher group of companies expanded its transport logistics and service in the European land transport sector. As a reliable partner, we develop and implement logistical solutions for the Europe-wide temperature-controlled transport of fresh, refrigerated and sensitive goods. Thanks to our many years of experience, we guarantee a smooth implementation of all requirements and specifications, taking into account all food hygiene regulations and according to the GDP (Good Distribution Practice) guidelines.
Our team make the difference
Flexibility, motivation and innovation are today more important than ever. The employee success factor plays an important role here, because our employees make the difference. Our success is based on long-term business relationships that are trusted in partnership, a love of innovation, a sense of responsibility and flexibility. Human networks and connections to customers and partners are and will remain a prerequisite for the high quality of service. Excellent communication, perfect coordination, service and quality at the highest level are lived at Schumacher in all business areas.
Full service transport solutions
Renowned customers and numerous market leaders rely on our complete package of logistics planning, control and implementation. For us, punctuality, quality and safety are just as important indicators as customer satisfaction.
Even short-term orders or urgent transports can be easily implemented for the Schumacher International GmbH. Our performance promise is fulfilled through strict adherence to and control of the cold chain as well as guaranteeing the highest level of hygiene.
Security & Quality
Quality and safety have always had a high priority in our company. Deficiencies have to be analyzed, corrected and eliminated quickly, especially nowadays. Comprehensive quality assurance measures in all areas of the company ensure smooth processes and safe handling of goods. In this context, for example, we designed our own safety system for our trailers used in European traffic.
Basis of our success
Thanks to our broad and flexible network for customer-specific overland transport in Europe, we are in action every day. Our experienced and multilingual employees are always up to the high demands placed on the transport of highly sensitive goods. We know how crucial it is to adhere to the value chain, especially in the case of food, and which regulations apply in the target countries. We create lasting values through trustworthy and long-term business relationships based on partnership, as well as our enthusiasm for innovation and a sense of responsibility.
TEMPERATURE-CONTROLLED TRANSPORTS

FULL-SERVICE TRANSPORT SOLUTIONS

PART AND FULL LOADS

REFRIGERATED TRANSPORT

FRESH LOGISTICS

TRANSPORT OF DRY GOODS

CHARTER TRAFFIC

DIRECT TRAFFIC

INDIVIDUAL TRANSPORT

SYSTEM TRAFFIC

PROCUREMENT LOGISTICS

SPECIAL AND EXPRESS TRIPS

EMPTIES MANAGEMENT
Schumacher – In a constantly changing industry – unlimited flexibility!